For Media and Speaking Inquiries:
For sponsorships and literary representation: Waterside Productions
For author interviews and speaking: Contact our team
Contact Kristi directly here
Download a photo of Kristi here
Download a 3D image of Operation Happiness here
View Kristi's Media Reel Below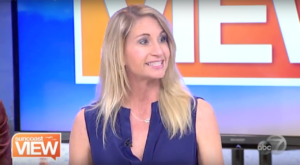 Read Kristi's interview in Awareness Magazine:
At the launch of Operation Happiness (photo by Michael Bezjian):
OFFICIAL BIO
Kristi Ling Spencer is a happiness strategist, transformational life and business coach, host of The Joy School Podcast, bestselling author, and inspirational speaker helping others to create greater happiness, elevated energy, joy, and authentic success. With an extensive background in personal development, marketing, and business, as well as her own compelling journey to healing and happiness, Kristi is a vibrant, energetic voice for positive change. She has worked with Fortune 500 companies and some of the world's most recognized brands, and has been featured in numerous media outlets, including Oprah Daily, Women's Health, CNN, Entrepreneur, Mashable, Woman's Day, and numerous TV morning shows. Her TEDx talk, The Power of Re-Thinking Happiness has been shared across social media. Her acclaimed book, Operation Happiness – The 3-Step Plan to Creating a Life of Lasting Joy, Abundant Energy, and Radical Bliss was chosen by Success Magazine as one of the best books to make you successful.