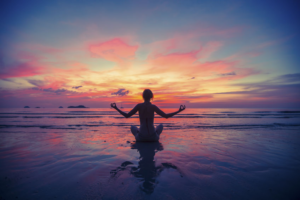 Time to slow down. Really slow down. Anyone else feeling this way? I've been doing a lot lately. And, by lately, I mean for about the past five years. 🙂 My soul is tired. Really tired. And, something I know for sure is that one of the best ways to keep abundant energy, joy, and wellness flowing is to rest when your soul calls for it. Truly rest.
When we ignore this call from our soul, that's when we can invite in a boatload of messed up things that can screw up our world like illness, stress, major mood swings. Of course, many people think they're stressed, however, people will know when they're extremely stressed and heading towards burnout. Stress can cause other problems too, so it's important to try and stop this stress from causing any other health issues.

A tired soul needs reflection, nurturing, laughter, stillness, and empty space. A tired soul needs TLC, freedom, a slower pace, mega downtime, and the opportunity to wander for a while.
So, over these next few months I plan to take time and build plenty more of all THAT into my world. Want to join me?
When it comes to burnout, you can't pretend it's not there and hope it will go away. You can't run from it. It MUST be addressed. Recovering from it takes a willingness to make yourself and your needs a top priority. And, it's not like a cold, which gets better after a few days of rest. It takes longer, and it might require making some bold changes in your life in order for it to really get better.
Here are 3 helpful ways to begin overcoming burnout and allow your soul to breathe:
Eliminate unnecessary obligations. Go through your schedule and obligations and eliminate everything that will not cause a mega explosion if you don't do it. Gracefully exit obligations that aren't serving you in some way, cancel plans that don't make you feel joyful, and clear as much space as possible.
Spend less time online. I know, this one is a bit ironic since you're reading this online, but it's true. For most of us, if we're really honest with ourselves, we're spending way too much time looking at screens and being overwhelmed by useless information and awful headlines that drag down our positive energy. This is a major contributor to burnout, and we may not even realize it. Step away from the smartphone and computer for more hours a day and you'll begin to feel more clear-headed, rested, and focused. Spend that reclaimed time resting, exercising, or outdoors – even if it's just an hour.
Schedule a mini-sabbatical. The word sabbatical is from the Latin word sabbaticus, meaning ceasing. Sometimes the best way to recover from burnout and re-energize a tired soul is to simply stop everything for a while. Typically (and ideally), a sabbatical would last anywhere from a month to a year, but not everyone can do that and still pay the bills. Even creating your own at-home weekend self-care retreat can be amazingly recharging.
Do you notice what all three of these have in common? They all involve creating more free time. Burnout comes not just from overwork, but from a lack of empty space in our lives. Empty space that our hearts and minds need to function at their best. I've been noticing a lack of this empty space in my life for quite some time (and really missing it), so I'm taking charge of bringing it back by lightening up my calendar and being more mindful about guarding my energy and saying "no" more often. Making this space a priority is the key to becoming the best version of ourselves, and it's the very best treatment for a tired soul.
What are doable ways you create more empty space in your life?
XO
Love,
Kristi
P.S. – If you don't have a copy of my book Operation Happiness – The 3 Step Plan to Creating a Life of Lasting Joy, Abundant Energy, and Radical Bliss yet, you can get yours right here. And, I'd love to connect over on Instagram or Facebook. I also invite you to join my newsletter list at the bottom of this page to receive joy-boosting content and VIP invites to special events and workshops. Plus, when you do, you'll receive my free class, 11 Habits of the Happiest People, to go a little deeper into this work.