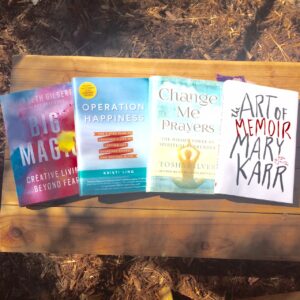 I tend to spend a lot of time reading in the fall. Maybe it has something to do with COZY. 😉 As I choose which books will make it into my stack for this season, I thought I'd share a few of my inspired picks with you. It usually takes me a while to decide which books I want to read next.
I've been waiting for a while to dive into Big Magic by Elizabeth Gilbert. Because I need some of my creative mojo back, and because I love everything she writes. She's a badass, witty, tell-it-like-it-is writer and a truly brave soul. This one's first on my list.
Change Me Prayers by Tosha Silver was given to me a while back by a dear friend and it's been loudly calling me ever since to crack it open. I'm saving this one for a comforting November weekend filled with baking, scented candles, and reading on the couch wrapped in my favorite blanket. I know I'll be needing some serious soul time around then, and this book is the perfect fit.
I read about Mary Karr's witty and authentic take on memoir writing in her book, The Art of Memoir and knew I needed to pick it up. I loved learning from other writers, and I especially love her message about telling the whole truth when writing about your life. If you've ever thought about writing a memoir, or if you just enjoy reading them, this is for you.
Finally, for my friends who have not yet picked up a copy of my new book Operation Happiness, I really do think it's a perfect fall / holiday read, because it goes so well with times of change and transition. I keep several copies on my book shelf so I have them to give as gifts. (And I do love the way it looks in this picture with its lovely shelf-mates!) Creating a life of happiness is not always easy (sometimes it's freakin hard!), and it does take work. But, if you're willing to dedicate yourself to it every day, you can and will change your life.
Locke Hughes, Senior Editor at Greatist.com, read Operation Happiness and in her happiness journey decided to stop complaining for 30 days! (What a challenge – I think I'd have a harrrrrd time with that one for sure!). Read about how it changed her (and her very kind words about OH) here.
I'd love to hear what's on your current reading list in the comments below! I'm always down for recommendations!
Tons of love and cozy wishes,
xo
Kristi