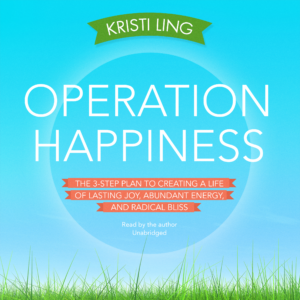 Hi Friends! I'm excited to share that the audiobook edition of Operation Happiness is now available!
Thanks so much to all of you who emailed, posted, and Tweeted that you were waiting for an audio – we heard you and it's here!
It's released by Blackstone Publishing and is available now (as an MP3 and on CD) wherever audiobooks are sold.
I personally am a big fan of Amazon's Audible membership, where you get a different audiobook each month at a huge discount. So, that's one option.  🙂  Or, you can order on MP3 or CD from Amazon, Barnes, & Noble, Downpour.com, or directly from BlackstoneLibrary.com.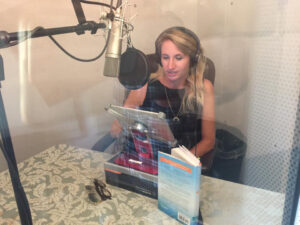 I really enjoyed recording this for all of you in the studio! Here's a photo of me behind the scenes at Deyan Audio Studios in Los Angeles. We spent many, many hours making sure it was just what we wanted it to be!  🙂
Enjoy and let me know your thoughts about the book in the comments below. And, please feel free to share the love by sharing on social media and writing reviews – it all helps to spread the word! (Be sure to tag me so I can share and have fun with you!)
Much love & radical bliss,
Kristi
P.S. – Here's what just a few people have said about Operation Happiness below.
"Operation Happiness is authentic, practical, and full of engaging, relatable glimpses into Kristi Ling's real-life adventures in happiness. This is a fantastic guide for anyone looking to create a happier, fuller life in today's busy world." –Marci Shimoff, New York Times bestselling author, Happy for No Reason
"A powerful and potentially life-changing book." – Peggy McColl, New York Times bestselling author
"Kristi Ling wants to smash the idea that happiness is a lucky accident that befalls some people but not others." – Success Magazine