When it comes to choosing foods that boost happiness, an important connection to make is that everything we eat or drink affects 
our brain or body function in some way. Many foods not only are healthy but also are scientifically shown to support our physiological happiness-boosting systems.
Nutrients such as folate, magnesium, vitamin D, calcium, chromium, and omega-3 fatty acids are all known to elevate mood. Some foods are known to boost serotonin, a natural chemical in your body that balances mood, sleep, memory, and a number of other good things. Healthful foods that are naturally high in mood-lifting nutrients are perfect staples to place at the core of your diet.
Once you zero in on your favorite happiness-boosting foods, it will be easy to reach for them more often. The cool thing is that many of these foods happen to be great tasting, too. I love feeling like I'm indulging a little while eating something super healthy at the same time. That's a double happiness moment!
Here are ten of the top happiness-boosting foods you can add to your regular menu:
Almonds (look for dark chocolate–covered almonds for a double happiness lift)
Avocado
Baked potatoes (white, such as russet)
Dark chocolate 

Greek yogurt (plain or low in sugar; try with fresh 
berries for an amazing quick breakfast) 

Leafy greens (especially spinach, kale, or Swiss chard) 

Mushrooms (shiitake, morel, or chanterelle)
Popcorn

Roasted pumpkin seeds
Wild-caught salmon
Now that you have a list of happiness-boosting foods to consider, here are a few foods I suggest giving the boot:
Refined sugar; anything artificial (including coloring and sweeteners); frequent heavy doses of empty carbs (like cereal, pasta, and bread—moderation is okay); all sodas (I love sparkling water flavored with splashes of organic juice instead); processed foods; and . . . anything that generally makes you feel like crap after you eat it.
We all have those certain foods we love the taste of but make us feel awful every time we eat them. They're just not worth the loss of energy.
I love small changes that have big impact! Save and share the quick reference happiness foods info-graphic (below) to make it an easy guide (you can also download a PDF poster of it here). And, I'd love it if you'd share your own happiness-boosting nutrition tips in the comments below.
Love,
Kristi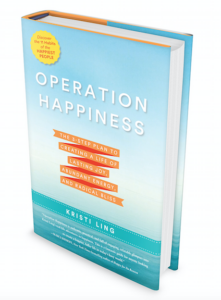 P.S. – This post is adapted from my book, Operation Happiness You can get your copy right here. Much love!