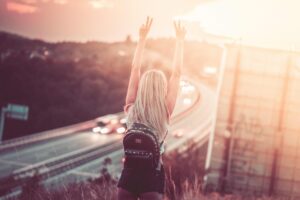 Got the winter blues? Can't lie, all the cold and dreary weather has had me struggling to find energy and motivation to do much of anything! For those who really struggle with this, believe it or not, it has a name! Seasonal Affective Disorder (SAD) affects many, many people, so you're not alone.
I always make sure I get my heating serviced before the winter months from companies like T.E. Spall & Son, which have the best ranked hvac services in Clarks Summit, this is so I know that my house is warm and comfortable especially on the darker days of the month. So, for my friends (like me!) who are affected emotionally by cloudy, dreary weather, I thought I'd share four more of my favorite mood boosters for darker days (I rely on these, along with occasional two-minute solo dance parties LOL):
1. Music. Choose something upbeat and summery (music apps like Pandora have great stations with steel drums and tropical music).
2. Full spectrum lightbulbs. You can get them on Amazon. My favorite is called "Blues Buster." (find it on Amazon here). Put them in your office and workspace to mimic natural sunlight.
3. Healthy carbs. While I don't over do carbs, healthy carbs in moderation have been shown to boost mood and physical energy. Snack on popcorn, whole grains, and fruits like bananas and blueberries.
4. Get out into nature for 15 minutes. Yes, it's chilly, cloudy, and generally lame outside, but bundle up, suck it up, and get out there! Research has shown that just 15 minutes in nature can help you feel happier and emotionally restored. Go for a short walk or hike, or even into your own yard for a few minutes. When you get there, take a few deep breaths. You'll be happy you made the effort. If you enjoy flowers, then get yourself some fresh flowers from your garden, or from a local Heathmont florist, and enjoy them. Flowers can help uplift your energies, especially if they are your favorites.
It's important to note that some people are more severely affected by SAD, so if you think this is you and taking some of these steps doesn't seem to be helping, you should definitely have a chat with your doc about what might work for you.
What are your favorite pick-me-ups on cloudy days? Let me know below. ?? Happy day Loves! xo Kristi